HSE ISSEK book is among top Springer books in "Technology Management"
The Springer publishing company shared the statistics on the book "Science, Technology and Innovation Policy for the Future. Potentials and Limits of Foresight Studies" edited by Dirk Meissner, Leonid Gokhberg and Alexander Sokolov. Since its release in 2013, it has passed the threshold of 9500 downloads at the Springer website.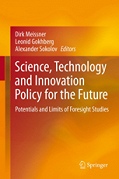 The book gives practical guidance for policy makers, analysts and researchers on how to make the most of the potential of Foresight studies. Such studies are common practice in many countries and are understood as a supportive tool in designing future-oriented strategies. The book outlines approaches and experiences of integrating Foresight studies in the making and implementation of science, technology and innovation (STI) policies at different national levels.
All this must have been found interesting and insightful by readers as the new book has become one of the most downloaded ones in the field of Technology Management, outperforming many older titles. It has reached about 9500 downloads by now and got into the top Springer books in its field.
To download the eBook or buy a hardcover/softcover, please follow the link: http://www.springer.com/gp/book/9783642318269.
By Karina Nazaretyan