Digital Activity of Russian Manufacturing Companies in 2018
The HSE Institute for Statistical Studies and Economics of Knowledge continues to study business digitisation trends, and presents the results of a market survey reflecting the level of digital technologies' application by Russian large and medium manufacturing enterprises in 2018. Managers of more than 1,200 companies in 30 Russian regions participated in the survey.
The HSE Institute for Statistical Studies and Economics of Knowledge presents the main findings of a market survey focused on digital technologies' application by Russian large and medium manufacturing companies in 2018 (digital activity).
Manufacturing Сompanies' Digital Activity and Strategic Initiatives
More than 40% of company managers in 2018 described the level of their enterprises' digital activity as very high or high; 35% had the opposite opinion (Fig. 1).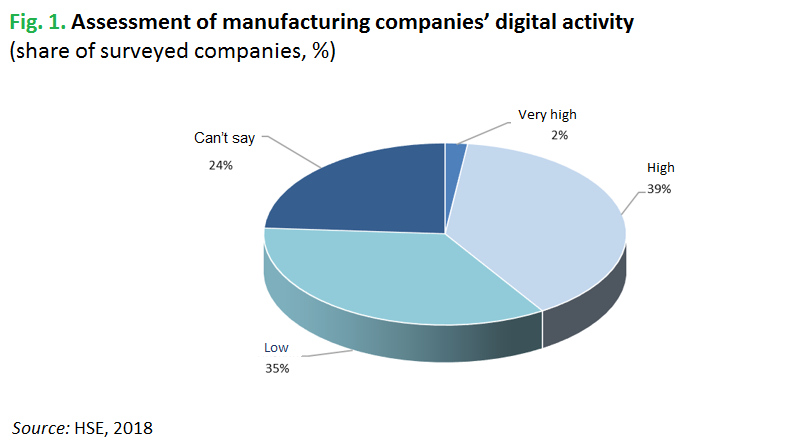 Only 10% of the surveyed manufacturing companies had a specific, officially approved digital technology strategy. More than a third of them (37%) were working on developing such a strategy, or discussing it.
The overall share of industrial companies who have strategically planned their digital transformation process was 47%; 37% believed there was no need for such a strategy (Fig. 2).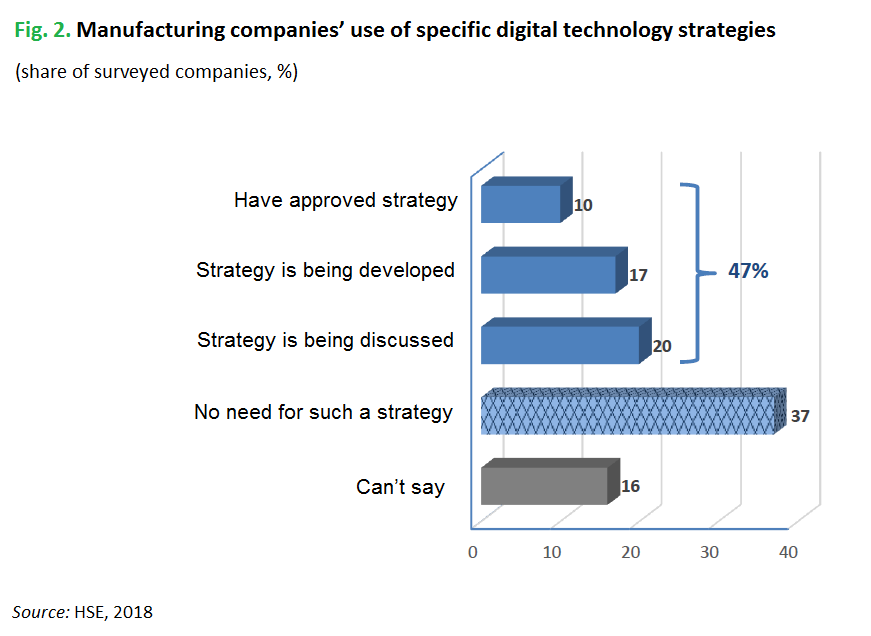 Almost a quarter of the manufacturing companies (24%) were developing digital technologies to achieve 'through' automation of their production and management processes, to integrate them into a unified information system (Fig. 3).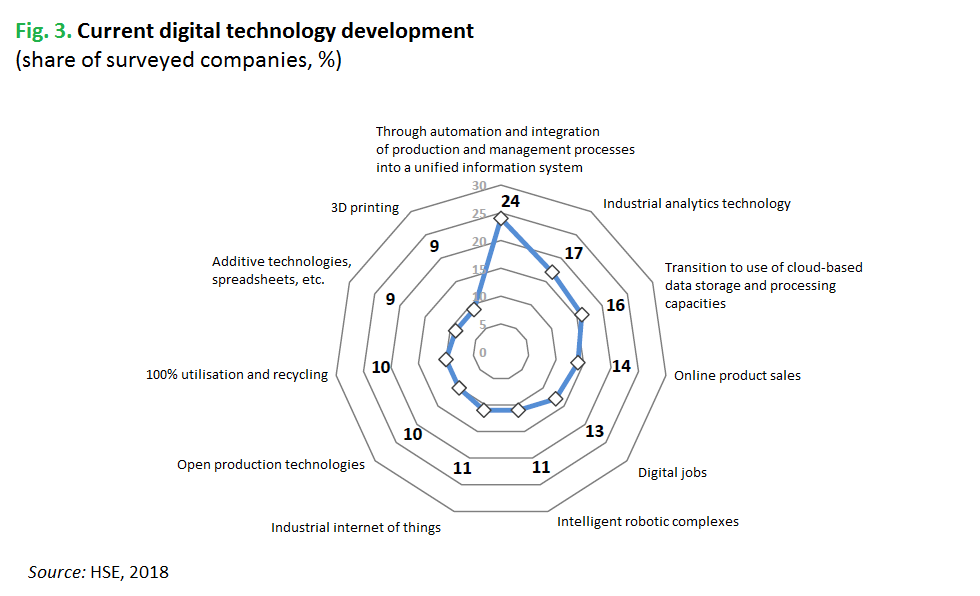 Expected Results of Digital Transformation
Asked about the main results they expected from their digital projects, company managers named increased productivity (52% of the respondents), reduced costs (44%), improved client relations (40%), and increased competitiveness (30%).
A somewhat smaller share of the respondents hoped their current investments in digitisation and integration would lead to significantly increased profits (28%) and client base (26%) (Fig. 4).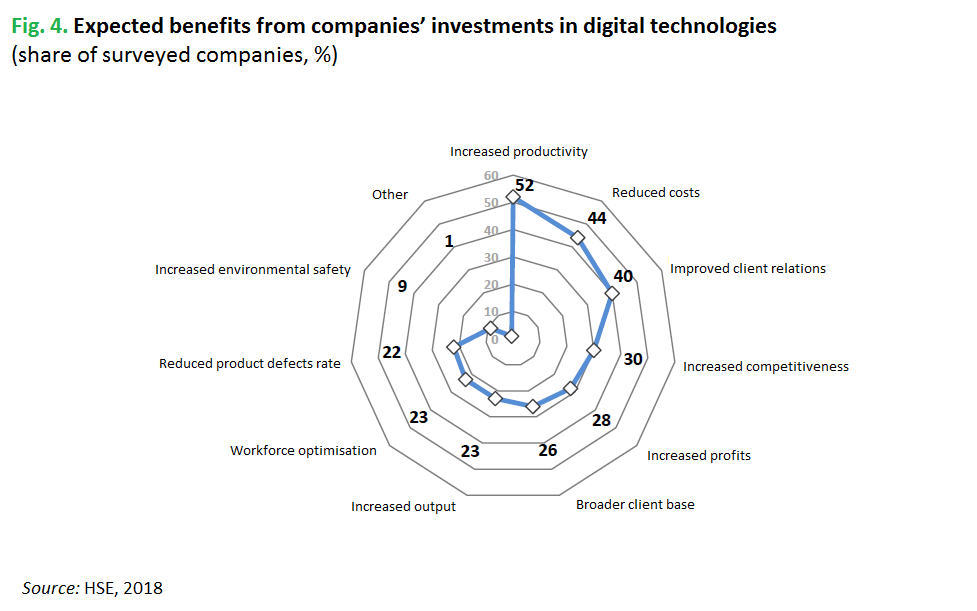 Factors Hindering Growth of Companies' Digital Activity
According to 60% of the surveyed company managers, lack of financial resources was the main barrier hindering digitisation. In particular, they noted insufficient investment activity: almost 60% of the respondents assessed the current level of investments in digital technologies as low. Nearly every third company believed insufficient readiness (adaptability) of their production facilities to digital transformation was a serious limitation. Another frequently mentioned barriers hindering digital transformation of Russian manufacturing firms was lack of favourable and stable economic conditions in the country (27% of the respondents).
In about 20% of cases digitisation was slowed down due to lack of experience in applying relevant technologies, and inadequate ICT skills. Slightly less than a half of company managers (45%) assessed digital technology qualifications of their staff as 'below the norm': their employees' skills and knowledge were only sufficient to support office software and ICT infrastructure, and provide data security. External specialists were typically hired to provide complex FRP-, CRM-, HR-, and database-related solutions, and design corporate web portals.
Sources: HSE (2018) Manufacturing Companies' Business Development Trends and Digital Activity. M: HSE (in Russian)
HSE ISSEK calculations based on Rosstat data, conducted in the scope of the projects 'Business Climate, Economic Sentiment and Digital Activity Monitoring in the Russian Economy' and 'Development of Methodologies, Information and Analytical Materials for Digital Economy Indicators' carried out in the framework of the Thematic Plan for HSE Research.
By Inna Lola
This HSE ISSEK material may be reproduced (copied) or distributed in full only subject to prior HSE ISSEK authorisation (please apply at issek@hse.ru). Parts (fragments) of this material may be quoted indicating the source and the author(s), and providing an active hyperlink to the HSE ISSEK website (issek.hse.ru). Any use of this material exceeding or violating the above conditions will constitute a copyright infringement.
All issues of the 'Science, Technology, and Innovation' and 'Digital Economy' series