'I Chose the Programme for Its Flexibility'
Master's programme in  Governance of Science, Technology, and Innovation has been offered by HSE ISSEK since 2014. It helps students acquire knowledge about science, technology and innovation management and policy. Below,  Dirk Meissner , Academic Supervisor of the programme, talks about its key features and development. Besides, first and second-year international students describe their reasons for enrolling in the programme and share their experience of studying at HSE.
The main focus of our programme is twofold. First, we look at government innovation policy. Here we work closely with our colleagues from the Ministry of Industry and Trade and Ministry of Economic Development. We want our students to understand how policies are designed. The second focus is company innovation management — how innovations are generated in daily operations. For this we maintain close relationships with Skolkovo and leading private companies.    
Approximately half of our teachers on the programme are international. This adds to the value of the programme since they bring different perspectives on innovation issues.
We regularly update the contents of our programme based on feedback we get from students, especially on elective courses. Our Academic Council reviews the curriculum every year and approves the necessary changes — we might drop some courses and add new ones to keep the programme at the highest level and assure there is demand for the competences and skills we teach.
Our graduates pursue various careers — some go on to do PhDs, some join the corporate world, others start working for the government or international organisations (e.g. OECD, International Association of Public Transport etc). It's all different — the programme gives a good mix of opportunities. It's up to the student to decide what it is it they want to do after graduation. We offer a broad scope of knowledge and skills they can draw upon when building their careers different fields.
Currently, there are about 20% international students on the programme. In the future we aim to increase this figure to one third, but not higher. For European students our programme offers a good chance to make their CV really stand out. Most European students do a year or a semester abroad during their studies — in UK, or France or other Western European countries. Few, however, go to places like Moscow. So, joining our programme can be really good for future career.
We see more and more students take the double-degree programme with Technische Universität Berlin. The programme is definitely gaining more international recognition. Besides, next year we will be launching another brand new double-degree programme — with Seoul National University. We also plan to sign new partnership agreements with one Latin American university and one in the Netherlands. So, our students benefit from various study-abroad opportunities the programme offers.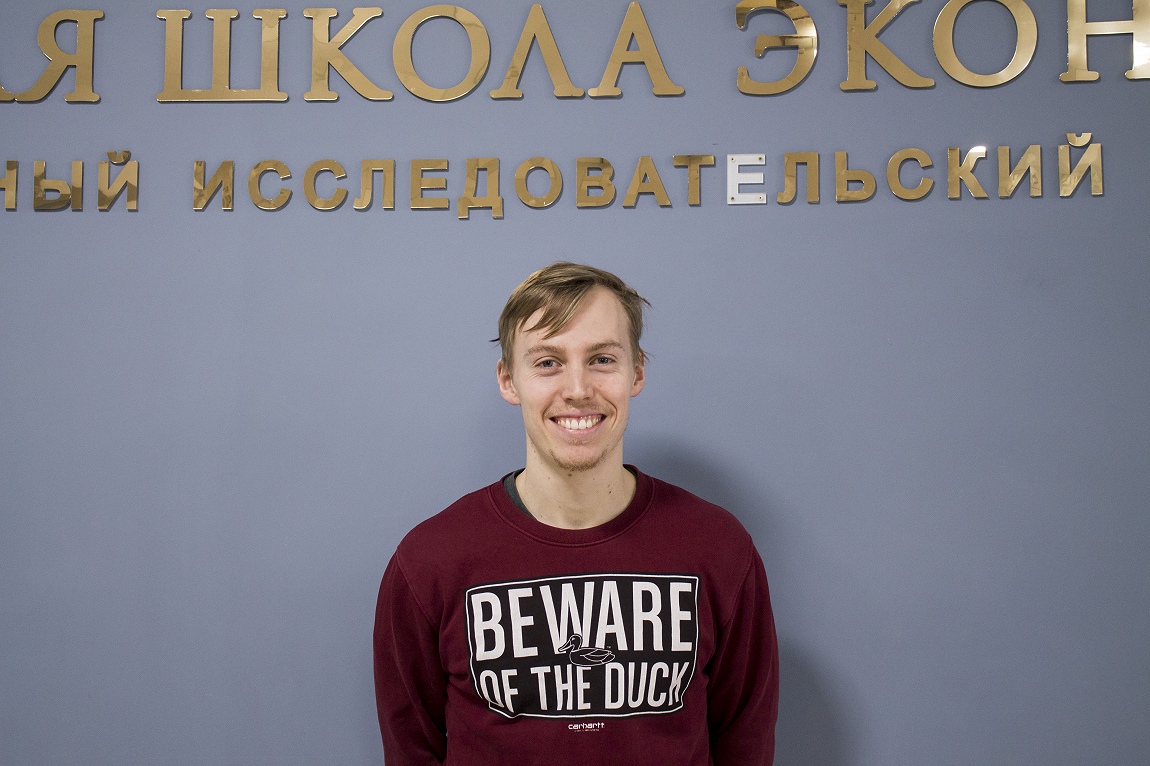 Tobi Brockmann, Germany, second year, double degree programme with TU Berlin
I started studying in Berlin at Technische Universität Berlin. I actually applied there because I wanted to get a double Master's and heard that there were different options at TU Berlin, including the Netherlands, for instance. I chose Russia because I wanted something culturally different, not too close to Germany. My first priority has always been Eastern Europe. Previously, I studied at Hasso-Plattner-Institut in Potsdam where they have a programme in Innovation. There were people from all over the world and we had an innovation project there with people from Asia, Eastern Europe, and America. I really loved the experience of getting to know other people within a team.

 HSE has a very good recognition in Europe. And double-degree programmes are generally a good thing, not only in the sense of having a good diploma and good grades, but more in terms of experience. Employers are realizing that intercultural experience of an employee is an important asset.
From what I've heard, HSE has a very good recognition in Europe. And double-degree programmes are generally a good thing, not only in the sense of having a good diploma and good grades, but more in terms of experience. Employers are realizing that intercultural experience of an employee is an important asset. No matter what you studied, if you studied abroad it's already a contribution for the job market. Employers are starting to realize that having a good diploma is somewhat important, but not the most important thing anymore. People will learn on the job quite a lot.
Here at HSE I got to know many new people; I learned a lot about a new culture and the political framework and the ecosystem, which we haven't paid much attention to at TU Berlin. There it was very business-focused, whereas here, it is more about what is the policy-making opinion behind that, what are the processes, opinions and ideas behind that. It's also interesting to learn how the whole business works in Russia. Overall, topic-wise, it's a very good contribution to what I've been doing at TU Berlin.
I can say that studying at HSE is very flexible since most of the lectures are in the evening. You can invest the time during the day in whatever you want. That's great, and you have big freedom. You can either be writing your research paper, or you can work, or explore the city. It's what I really like. Of course, if you want to achieve only the best grades, you have to invest more time. The assessment system is quite fine. I've been good so far with that, balancing working and studying. What I also like about the programme is that there are a lot of external people invited for guest lectures. Research seminar is also very good. You have small tasks to do, and it helps you to not start studying at the end of the semester — this is what we quite often do in Germany.
I am in my second year now and for my Master's thesis I will write about Artificial Intelligence (AI) — about the impact of AI technologies on employment and the health care sector. I'm working a lot with companies who are afraid of AI or want to be part of the movement. At the same time, with my team, I'm making a documentary about the future of it. Employment is always the big fear you are having right now - that a lot of jobs won't be there anymore. Personally, I don't think AI will take over managerial jobs. What managers do is bring people together and design how people interact. Probably, AI could do it and this is also why we know that we won't have one job in the future. We'll probably have 4 to 5 jobs during the lifetime. So the right mindset for the future is being ready to learn and unlearn. I'm trying to work on that. I'm learning several things at the same time. Some skills that have been essential for me over the last years — I'm not using them anymore, because I don't see the future of it. We all have to keep evolving.
The same applies to adapting to living and studying in Russia — be ready to learn, and be also ready to unlearn. What works in Germany, may not work here. I would say it hasn't been very difficult for me to adapt to living in Moscow because I'm pretty good at adapting. I love to see everything not as a problem, but more a challenge. But that's also the mindset I learned through the last years, through starting my own projects. You often do things you are not good at, and you have to learn fast.
Also I think it's important to learn the language better. I manage without the language because I think I'm pretty good at exploring new things without getting to know the culture. I just ask, and then ask again, and then I start using body language. At the end of the day, you still have all the technology, like Google Translate etc and since Moscow is a huge capital city there are a lot of activities and facilities for expats. But if you know the language it's easier to build relationships with other people, to get to know other people.
Then, always be prepared to be overwhelmed, especially during the first weeks. You will have a lot of questions in your head because you don't know how the things are working. The processes are different when it comes to how to get a visa, to get a registration stamp, etc. Getting a buddy is very good, either over the ESN programme, or finding someone for supporting you and helping you. Be ready to spend some time on that.
As for the differences between Moscow and Berlin, first of all, there are small things, like taking the metro. Here, it's faster, it comes more often, and you don't have to run for a train because it arrives every minute. But you also have to be ready to bounce around or sometimes be pushed around in trains, because people want to get from A to B. Another thing concerns displays of emotions. Before I came here, I knew that people may not be laughing or smiling that much, but it doesn't mean they don't have a good time. Don't assume that people don't like you only because they are not smiling. That's not how it is. Be ready to receive that.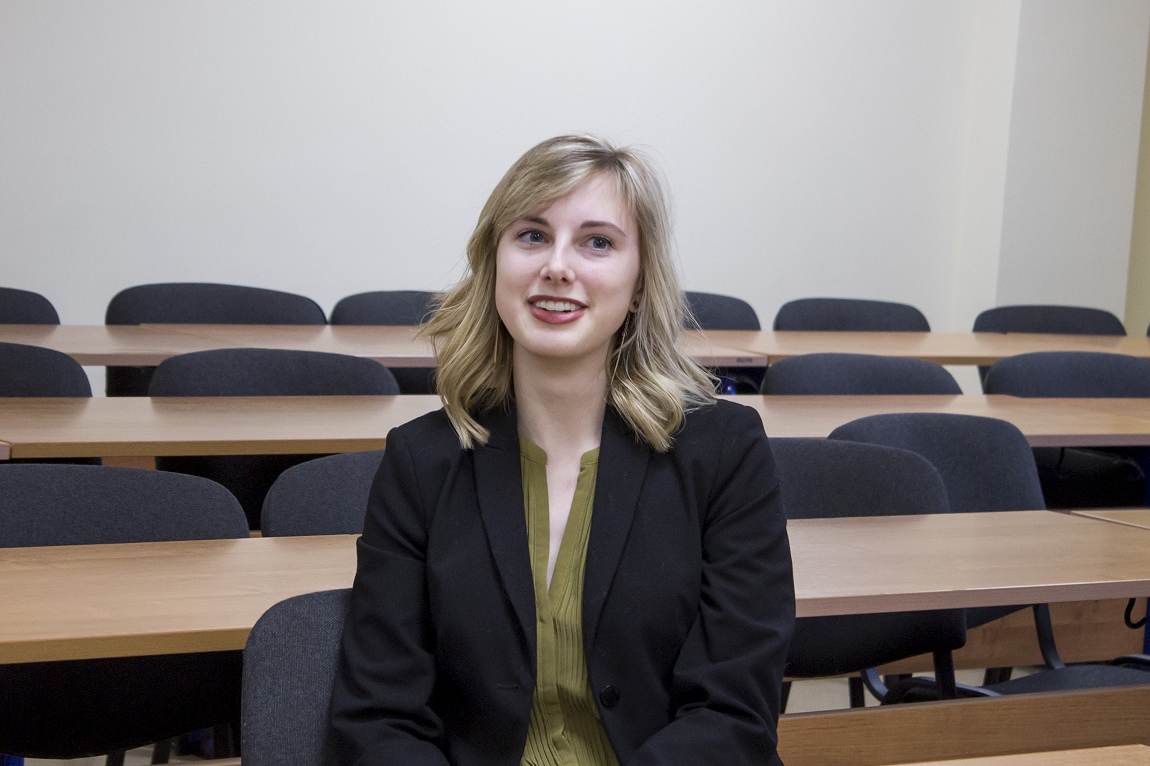 Natali Gray Misak Hall, USA, first year
In my freshman year at Walton College of Business (University of Arizona) I had insomnia and I thought that if I wasn't able to sleep I should do something with my time. I took Advanced European History class and we talked about Russia for two days. The first was about Peter the Great, and the second was about Catherine the Great and it was like there was nothing else in Russia besides them. So, I found a private tutor who was actually from Moscow. I studied with her for two years and then I decided that if I want to learn Russian I should go to Russia because at my college there weren't actually academic resources to learn the language properly.
I first studied abroad in Russia at MGIMO. Everything was new and shiny to me. I liked it all. The food is different — you feel you have to eat everything. I think I was well prepared culturally — thanks to my private tutor — and I really wasn't shocked. Second time around is different because it's more business-like now. I am not so much trying to enjoy my time here, although I still do, of course, but I focus more on the studies now. I've already written 40 pages of my coursework but it still needs some touching up. So, I spend quite a lot of time studying but I also have time to relax, go to cafes, etc.
I had a lot of friends from HSE during my first stay in Moscow — we used to go to some conferences together and they were always telling me that their school is better. I actually started applying to Master's programmes when I was in my third year of college. I looked at HSE because I wanted to find a programme that would allow me to write my dissertation in English. Although I can speak Russian, writing a paper in Russian would have been too much for me. Besides, it might be good to be able to publish a paper in English. Also, since I don't know where I want to get a job in the future it had to be a flexible system.
My Bachelor's was in International Business with a focus on Management, Marketing and Innovation. I really wanted to do consulting in the beginning but I am much more interested in startups now. I didn't choose a Master's programme in International Business because I wanted to do something different in order to diversify my portfolio. Master's programme in Governance of Science, Technology and Innovation really encompasses a large area – so there are multiple paths you can take. I felt that it opened up a new window for my PhD if I chose to go in a different direction. Ultimately, I chose it for the flexibility it offers. The programme allows me to decide what my route is going to be.
I really like that we go in multiple directions in classes. We are very research based — in fact, I've already started working on my course project. I'm doing AI implementation in financial sector — I'll be looking at various applications of this technology in a specific sector. It can be used to control trade, banking, etc eliminating a lot of people risk. Many companies are already using it, like MasterCard, for instance, is using it for fraud detection. It is actually predicted that 5 mln jobs will be taken by AI by 2020. Personally, I think that either we will all lose our jobs and it will be a new world, or we will create new jobs. There will definitely be an economic shift in what we define as work.
I really like Veronika Belousova, who delivers some lectures during the course on Strategies in STI Management. I love her lectures. She talked about NPV (net present value) which of course we all went over in our Bachelor's degrees. But she brought up interesting case studies. We debated which investment we should take — the one that offers a higher overall return — but only in the fourth year — or a lower return but which is evenly spread over all five years. Some of the students and I disagreed — and I don't know if that's because we were taught differently or if it's a cultural thing — but I chose a lower return because you can re-invest the money you receive every year. Besides the time value of money makes such option more attractive. It was nice to have such a heated debate about finance!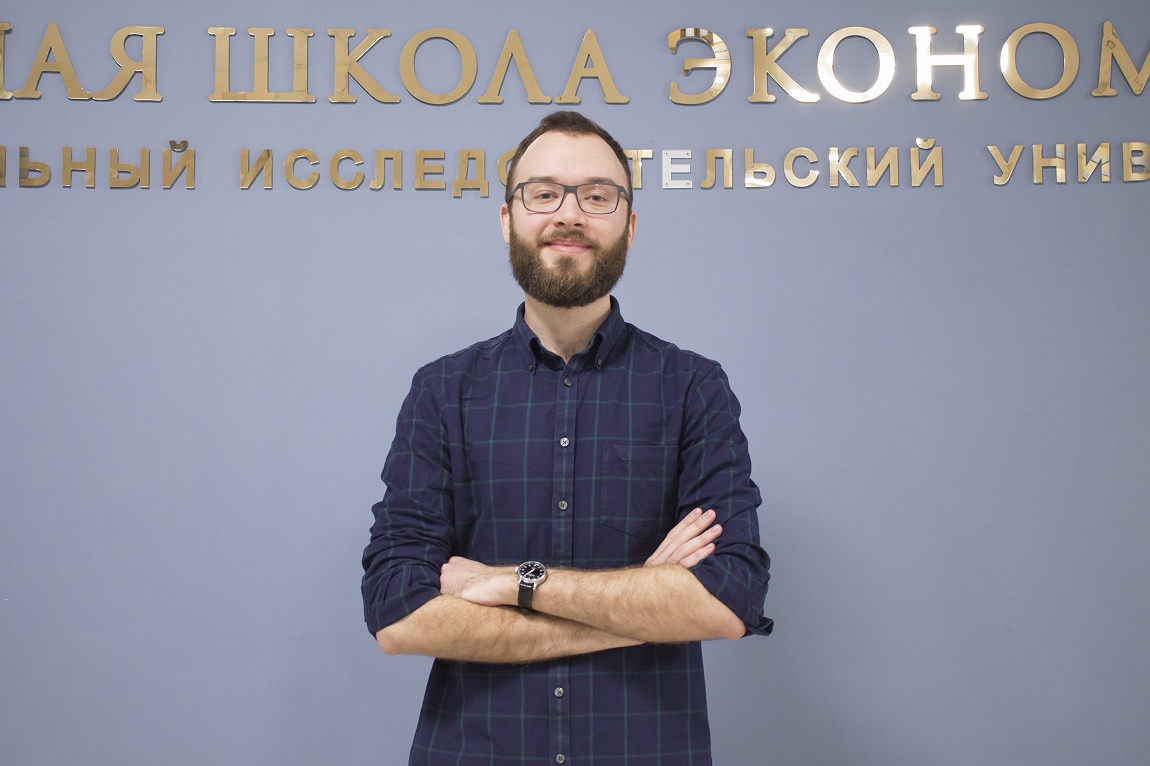 Gero Parzefall, Germany, second year, double degree programme with TU Berlin
I did my Bachelor's in Business Administration and Economics at Passau University where I specialized in Management, Marketing and Innovation. I've always had an interest in innovation field. After my Bachelor's I decided to travel and work for a while. Then I realized I wanted to do a Master's degree so I signed up for a double-degree programme at TU Berlin. The option to go to Russia for my second year was one of the deciding factors why I ultimately opted for innovation management and entrepreneurship programme. I've always been fascinated with Russia and in my Bachelor's degree there used to be an option to do a double degree but it was cancelled when I was in my second semester and I couldn't take this chance. I was quite happy that there was an option to go to Russia for my Master's.
I'm going to write my Master's thesis here under the supervision of Alexey Bereznoy. I'll be writing about the issues and challenges of business model innovation in large corporations. Business model innovation process is not well researched at the moment. Companies typically seek a top-level executive who will introduce innovations which are then adopted from top down. My hypothesis is that it should be an independent and self-governed service within the corporate innovation system — similar to technological innovation. I'm trying to look at technological innovation process to see how they overcome some issues and challenges, like inertia, lack of readiness for innovation, etc.
My overall experience at HSE has been very positive. I was very impressed with the effort HSE is making to integrate international students with the buddy programme and ESN international student network. HSE made it very easy for me to arrive and get to know people. The students are really helpful, so I didn't have any major problems as I'd expected to have. Although I don't really speak Russian, I'm only just learning it, I haven't had any difficulty communicating with people, especially in the area around HSE in the centre of Moscow. All the stores here have personnel who understand English. Of course, the farther you get from the centre, the more difficult it is to manage without the Russian language. The city is very clean and fresh, thanks to the recent renovation. I was very positively surprised by this. It's definitely a city worth visiting. I am going to stay in Moscow until August and plan to see some matches of the World Cup in June/July.
I am really fascinated by the Russian culture. As a European you think you know something about Russia but you don't really. You have to visit Russia to fully understand and experience it. I was quite amazed by everything here. I like the Russian mentality and the approach to getting to know people. In the beginning people seem rather distant but then as soon as you get to know a person better, they open up, become your good friends and help you a lot. I really like this way of interaction — it's truly honest. I was surprised that everyone here is really interested in meeting foreigners and talking to them. I did two study abroad terms in Hungary and Czech Republic and the experience there was a little different. Overall, I can't say I've experienced culture shock. I was able to adapt quite easily.
The biggest challenge for me was studying in the evenings — because normally I'm used to studying in the morning. But here in the morning you can explore the city, do different things and then in the evening when you used to relax you have to be active in class. That was quite a change — I had to adapt to that. Getting focused and paying attention in class from 6 till 9 pm was really challenging for me in the beginning.
I'm really impressed by the foresight courses here, especially Corporate Foresight course. We also had some very interesting guest lectures. The academic and corporate connections HSE has allows it to make the courses really insightful and useful. They are also quite challenging. There are a lot of discussions and debates during classes — after you make a presentation, you get really tough questions and you have to answer them in a proper way. This has really strengthened my ability to debate in front of an audience, which I find very valuable. The people here are really interested in the topics that you present and they want to know more and to challenge you. It's a great way of learning.  Also, we have a very diverse group of students with people from different countries — it's really interesting to exchange opinions.
Admissions for full tuition scholarships are open until February 28, 2018. Regular admissions deadline is July 15. Learn more about admission requirements on programme website.